This is how it's been for me the last few days:
"Hey, Sara, this is your body. I'm going to get sick. We'll start with a fever ... maybe a sore throat and a headache ... okay, that's enough. Now you can start feeling better. GOTCHA! I'll get rid of the fever, but you're going to be achy all over instead. Good joke, right? Okay, really, you can start feeling better now. GOTCHA! You're actually going to be coughing up a storm! Isn't it funny how I keep pretending that the illness is going away? I crack myself up."
Seeing as how I'm strapped to the couch
anyway
, I decided to dive in to the whole Academy Awards frenzy, which I've never done before. I watched all the red carpet arrivals and the whole program as well. My thoughts on the ceremony itself: Kirk Douglas is saucy, Colin Firth is so charming I can't even stand it, my love for Natalie Portman is ever-increasing, and I inexplicably still have no desire to see
The King's Speech.
Not sure why.
As for the fashion side o' things, here were my favorites.
#10 - Halle Berry in Marchesa
I'm not crazy for the floating tulle-ness at the bottom, but I'm also sure that the dress would have been too simple without it, so I defer to the wisdom of the designer here. The real appeal of any dress that Halle Berry wears is the fact that Halle Berry is wearing it. The woman is beauty personified, and if I'm not careful, I'll spend too much energy being crazy-envious of her.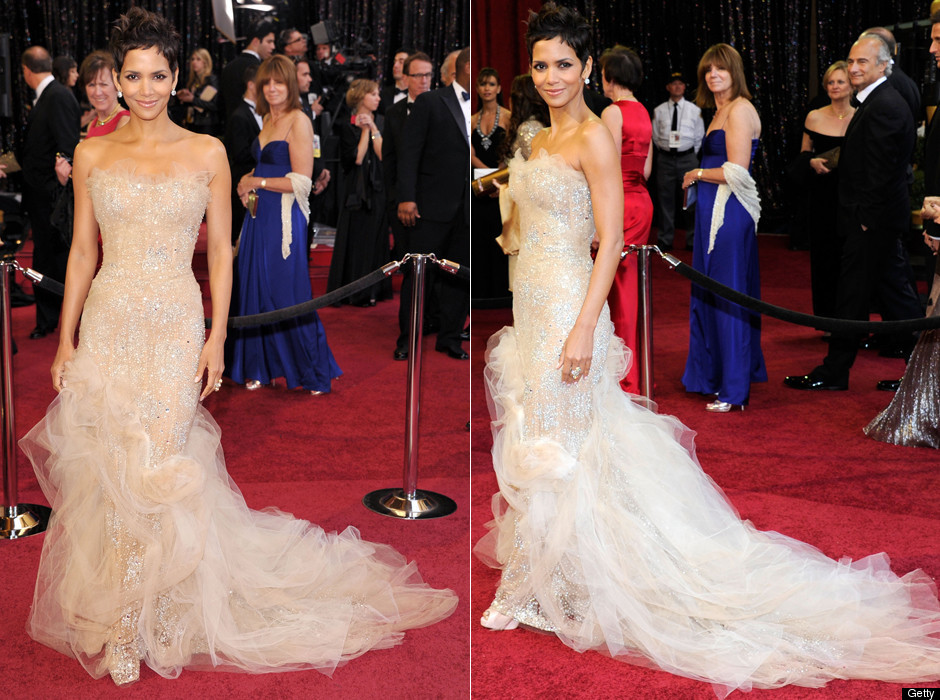 #9 - Hailee Steinfeld in Marchesa
This is an age-appropriate pick, though I think the headband might be verging on "too young". I love how this dress combines the adorable with the refined.
#8 Annette Bening in Naeem Khan
Simply gorgeous -- she always gets it right, looking like the beautiful, serious actress she is. This is effortless and tasteful.
#7 - Michelle Williams in Chanel
This dress (and the styling as well) feels kind of predictable and expected from her, but I've gotta give credit where it's due: she definitely got it right with this particular look. Excellent and true to her personal tastes.
#6 - Amy Adams in L'Wren Scott
I'm crazy for this color, especially with her complexion and hair color. Love the soft curls and the jewelry as well.
#5 - Melissa Leo in Marc Bouwer
I doubt she'll get a lot of love from the fashion critics, but this is perfection to me. It's like nothing else that was on the red carpet tonight, and she was clearly just revelling in the fact that she was experiencing such an event at this stage in her career. LOVE the standup collar here.
#4 - Mila Kunis in Elie Saab
Beautiful color, and it moved in such a lovely way as she walked on the red carpet. I really adore the lacy effects on the bottom and along the neckline.
#3 - Mandy Moore in Monique Lhuillier
I tried to find a still shot that would do this dress justice, but I don't think it exists. Sad day. She really looked so elegant in this during the pre-show footage that I saw, glamorous in an old Hollywood sort of way. Note: this dress actually features a nude illusion neckline, but it was incredibly subtle.
#2 - Gwyneth Paltrow in Calvin Klein
This was a great choice in terms of cut, color, and styling - not too over-the-top and attention-grabbing, which is appropriate considering that she wasn't nominated. I really like the belt brooch thing and the earrings, which gave some fun splashes of color.
#1 - Cate Blanchett in Givenchy Couture
I'll confess, when I saw her arrive, I proclaimed "Favorite!" and didn't give anyone else a chance. I love how funky yet lovely this dress is, the back is gorgeous, and the softness of her hair is a perfect complement. Ms. Blanchett can do no wrong.
Honorable mentions to the supportive wives and girlfriends out there (holla):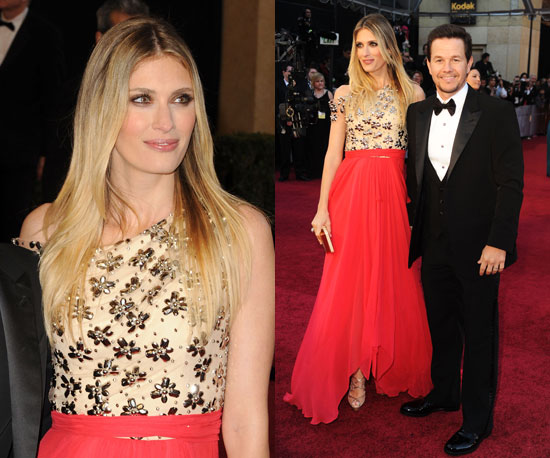 Camila Alves (Matthew McConaughey's girlfriend) in Kaufman Franco